At Whole Blossoms, we have successfully served over 47,000 brides and event planners over the years. One particular variety that is used extensively is the Anemone flower. It has a wonderful shape of petals that fan around a dark center. The vibrant colors and shapes of the heads are often times the most prominent fixture in Wedding Bouquets.
Many want to know the Anemone Flower Meaning and for many, it simply means, "anticipation." Anticipation is the perfect word to describe what a bride and wedding couple feel on their wedding day. It's amazing to see the joy and happiness a bride feels on her wedding day as she sports her Bridal Bouquet and brandishes her million dollar smile with her arrangement full of Anemones.
A little goes a long way with Anemone arrangements. Sometimes it's the perfect addition of color that is needed to fulfill both balance, and texture in floral arranging. They also help to be the perfect accents for flower flowers, cascading flower arrangements, floral clouds, floral arches, flower walls and Wedding Centerpieces.
In this article, we are going to discuss the five big colors and arrangement ideas for each, we will also list some of our other varieties of Anemone.
White Anemone Flower
Our White Anemone, is by far, the most requested of all the colors, and seems to be just the right accent you will need to finish your bouquet. This bloom looks wonderful with Silver Dollar Eucalyptus, Israeli Ruscus, pine cones, White Ranunculus, White Garden Roses, White Carnations, White Spray Roses, and more. If you are planning an all white variety of bouquet or centerpiece, you will be pleased with the lovely accent it will leave with its dark center.
It also looks spectacular with Peach Roses and Light Pink Roses. For added texture, you might also want to consider White Spider Mums to arrange together with this wonderful bloom. They seem to be perfect companions together and will help your arrangements to really stand out.
If you have a white dress, you will also be happy with the way your photos will turn out, especially outdoors. The natural light allows you bloom to appear whiter, as compared with artificial, indoor lighting that seems to give your white blooms and more yellowish tone. Some actually prefer the yellow tone, so the option of indoor or outdoor is completely up to you.
Red Anemone Flower
Our Red Anemone, is one of our more passionate tones and certainly is the perfect contrasting bloom for floral arrangements, or if you are seeking an arrangement with a mix of colors, you will certainly want to consider this beautiful selection.
Of course, if you are going for the all red look, Red Spray Roses, Red Peonies, Red Ranunculus, Red Carnations, and Red Dahlia will look amazing. Some brides, however, prefer a little red for balance and creative tone transitioning with white, cream, or even yellow blooms.
You can also check our article – A Wedding Flower Guide For Anemone Flowers
Sometimes, they just look incredible with an assortment of Anemone colors and is sure to be pleasing to the eyes.
Blue Anemones
Our Blue Anemone is also pretty popular color tone. Many prefer the blue balance in their arrangements which seem like a gift of the clear blue sky, captured into the arrangement of bouquets and centerpieces. We have seen many have monochromatic blue flower orders that will need to dark center of the anemone to complete the array. For the monochromatic look, you may want to arrange with Blue Dendrobium Orchids, Metallic Blue Hydrangea, Baby's Breath blue or turquoise, Blue Carnations, and Blue Rose.
However, if you have a mostly white arrangement, this Blue Anemones might be a pretty desirable option for you.
Purple Anemones
Our Purple Anemone looks outstanding in a variety of bouquets and centerpieces. There seems to be a natural love combination between this color and the Yellow Rose. The wonderful thing about this bloom as you can almost make it look good with anything. Its natural purple tone makes it a great contrasting variety with White Peonies and Cream Garden Roses.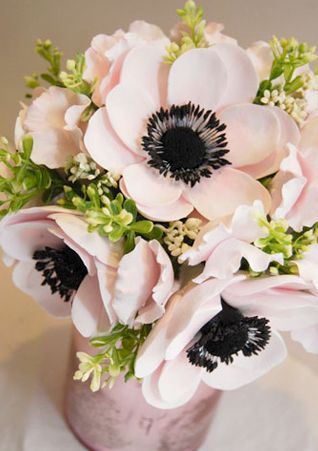 It is also a great bloom for the monochromatic purple look, with Purple Orchids, Purple Roses, and Purple Carnations.
Pink Anemone Flower
Our Pink Anemone is a fantastic flower for pink and light pink arrangements. The unique dark centers allow is to be an accent that defines your arrangements like no other. You might consider arranging with all white, or go with a pink theme and add some Pink Spider Mums for a creative work of art with the textures.
You can check our article regarding wedding decor with Anemone – A Captivating Wedding Decor With Anemone Flowers
We also have:
Blush Anemone Dark Center
Anemone Blush Tinted Dark Center
Anemone Purple Flowers Bicolor
Hot Pink Anemone Flowers
At Whole Blossoms, we strive to make you happy with the lowest prices and superior quality. All of our orders are shipped to you, directly from the farm. Please visit our website www.wholeblossoms.com, or call us 1-877-259-2566.