We recently had an article written about the different cool ways to arrange Bulk Carnations with your Wedding Flowers. In this article, however, I would like to discuss some of the favorite blooms in the wedding industry that have been used by brides, event and wedding planners and have proven to be some very the combinations of some very eye appealing carnation arrangements.
Many are interested in the Cost of Carnations, and though all of our Wholesale Carnations are considerably lower in prices as compared to the more premium blooms, such as Peonies, and Garden Roses, they are also premium in quality. You can't go wrong with any variety you purchase here at Whole Blossoms.
A lot of arranging has to do with which color of a Carnation you are selecting. For instance, Orange Carnations can really look spring like when arranged with Bulk Sunflowers For Wedding, Babys Breath, and Leather Leaf Filler. This particular carnation arrangement looks very much appealing from an outdoor perspective.
Before we begin this quick trip through some great varieties, I must say that the creative person has no limits as to the number of arrangements and variety combinations they can come up with. Flowers are like colors on an artist's palette, which are in the hands of the creative person, arranging them to represent the mind, heart and soul, of one's imagination.
You can also check my last article about Carnations – Some Cool Things About Carnations That Will Help Your Event Planning
1) Carnation Arrangements with Rose
It's amazing how the smooth petals of the rose contrast beautifully with the ruffled heads of Wholesale Carnations. For instance, if you take White Carnation Wedding Flowers and arrange them with White Peonies, White Garden Roses, White Roses, and White Anemones, you will be creating a beautiful display of contrasting shapes, and sizes that will satisfy the craving soul with wonder and creative, artistic abilities. When it comes to straight colors Yellow Roses mix perfectly well with a White Carnation. Lavender Carnations also add a bit of more color and tone to your carnation arrangements.
2) Chrysanthemums
This is a great selection for your arrangements that will pair perfectly with carnations and give lusher, voluptuous heads that take up more space in an arrangement with the ruffled heads of carnations with the Chrysanthemum Flower. It is an eye catching bloom that is also a great flower to add with your fall wedding planning. It is pretty versatile and will surely help you create some gorgeous Wedding Bouquets. A very good example of an arrangement would be to mix White Carnations, White Chrysanthemums, and some Seeded Eucalyptus, or Israeli Ruscus for a beautiful white and green bouquet.
Another great contrast is White Mums with Yellow Carnations. Changing the color contrast may be slight and simple, but will leave a tremendous impact on the way your carnation arrangements are perceived.
3) Baby's Breath
Babys Breath Flowers have always had a magical way of making any floral arrangement you can imagine, come to life. You might thing that a bouquet or centerpiece of carnations is all you need, but if you add just the right amount of Baby's Breath, your arrangements will have a look of sophistication that you might find lacking in other arrangements. It's an incredible filler flower and at Whole Blossoms, we have so many new and exciting colors to choose from. You will be amazed at all the different combinations you can come up with and even be the perfect unifier with other blooms in an arrangement of diversity.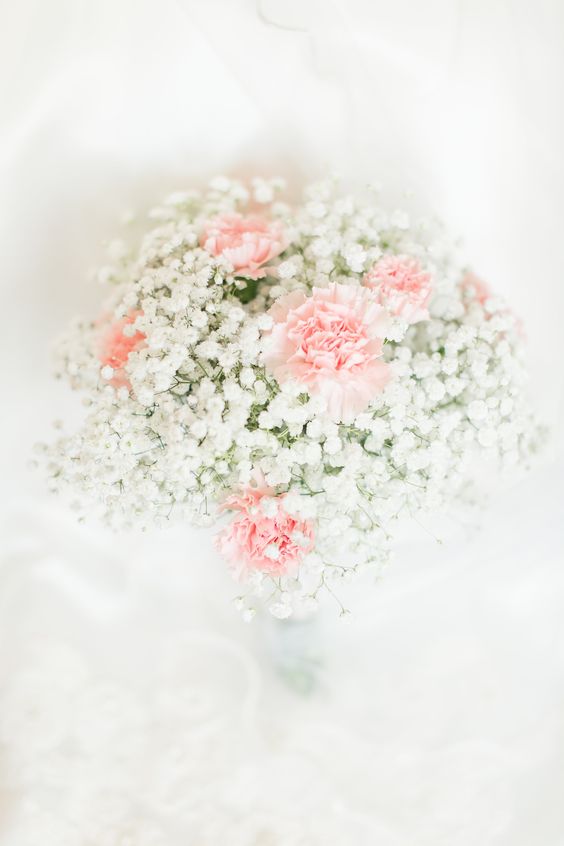 4) Carnation Arrangements with Lilies
We have a tremendous selection of Lily Flowers that you will find enticing for a carnation arrangement blend. We have a White Oriental Lily Flower that will blend gorgeously with White Carnation Flowers. The star shape of the Lily head with protruding anther and filament and a bit of greenery, such as Italian Ruscus, or another Eucalyptus variety with make your arrangement sparkle with both, precision, and unity of art. They do make a handsome couple and will allow your event to envelope the passion of desire you seek to fulfill.
You might also seek to come up with a more colorful backdrop for your lilies, such as Red Carnations, or even pink and purple. Whichever route you choose, you will not be disappointed in the outcome of your wonderful and joyous occasion.
5) Gerbera Daisies
This little beauty is a wonderful accent flower that is sure to add the perfect touch for a fine looking bouquet. The Gerbera Daisy is similar to a sunflower, yet slightly smaller with cute little buttons in the centers. Gerbera Daisies are the equivalent to adding some spicy peppers to your main dish. They are very bold and will make you feel energetic about your wedding or event. You can find similar colors or carnations and Gerberas, or mix the colors with the right amount of greens and filler for that final touch.
Carnations are not only one of the most affordable varieties, but they truly arrange well with other blooms in so many different ways.
At Whole Blossoms, we are passionate about flowers and love what we do, we offer premium quality, farm direct, at a fraction of the cost at what you would pay at a florist or local market near you. In fact, many florists buy from us. We indeed want you to have a wonderful memory with your event and are here to help. Please visit our website www.wholeblossoms.com, or call us at 1-877-259-2566.