If you are planning a wedding or a special event and are doing your arrangements, you will want to add exceptional filler that will really make your flowers stand out and accentuate the blooms you are assembling, you will love Baby's Breath Flowers!
At Whole Blossoms, we have recently added several new colors of Baby's Breath that allows you some diverse options when creating your Wedding Centerpieces that will make your creations absolutely gorgeous! Not only do we have white, but now we have the following colors and answer the question, Where To Buy Baby Breath Flowers?
Color & Varieties of Baby's Breath
Baby's Breath Gold Color
Baby's Breath Yellow Flowers
Baby's Breath Yellow Filler
Baby's Breath Light Pink Flowers
Baby's Breath Pink Filler
Baby's Breath Hot Pink Flowers
Baby's Breath Lavender Flower
Baby's Breath Light Blue Flowers
Baby's Breath Turquoise Flowers
Baby's Breath Blue Filler
Baby's Breath Dark Blue Flowers
Baby's Breath Coral Peach Flower
Baby's Breath Orange Filler
Baby's Breath Red Flowers
Baby's Breath Dark Red Flowers
Baby's Breath Light Green Flowers
Baby's Breath Assorted Fillers
As you can see, it is quite a selection of colors which allows you to get away from the more traditional color of white.
Now that you can buy many different colors in bulk, the challenge now comes as to where you can disperse them among your Wedding Flowers.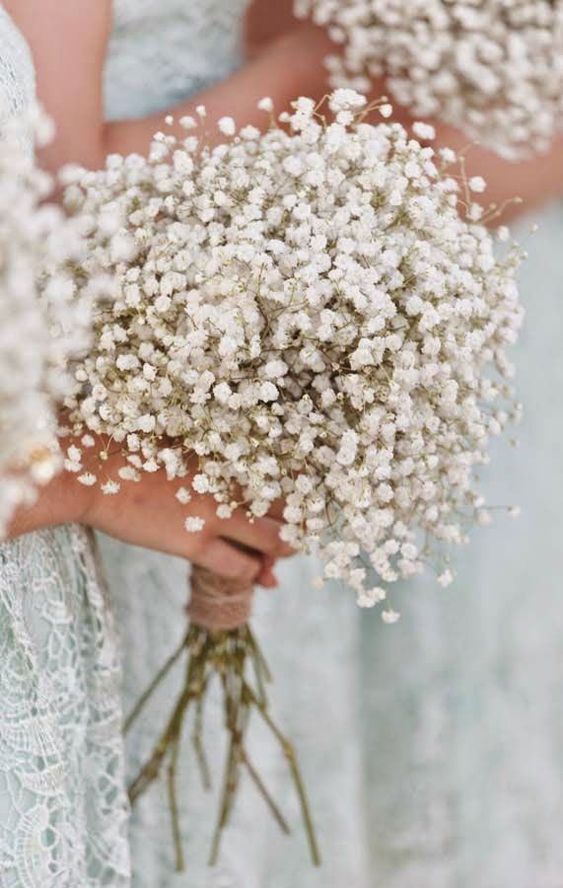 In recent years, for some reason, many have gotten away from incorporating them within their arrangements because of the more frequent use of other blooms with larger heads, that take more space, such as Peonies, Calla Lilies and Proteas, but Babys Breath has a way of really making your centerpieces look sharp and appealing.
One cool way of using it is if your are planning on using escort cards for your wedding guests.  You can take some White Baby's Breath and lay them underneath the cards for your wedding guests. You can make your cards with calligraphy and punch a hole in the card and add some lace. When your guests begin coming in and see this, it will be sure to add a welcoming effect that makes them feel warm and invited. They will be inspired to enjoy your wedding and also feel extremely valued.
Another great idea with White Baby Breath Flowers is to create a neutral Bridal Bouquet that seems to flow with nature. You can arrange with Light Green Hydrangea, White Hydrangea, Green Hypericum Berries, and Coontie Fern Filler. If you are wearing white, you will feel as if you are walking as one with nature and appear light and refreshing.
For a bit of a warmer arrangement, add some white with beautiful Sunflowers, Green Hypericum Berries, and Yellow Craspedia. With this fine arrangement, you will feel the warmth of the sun with the refreshing highlights of Baby's Breath and have a sensation of walking under a warm sun in the middle of a warm, summer afternoon.
For an extremely simple bouquet, you can arrange with White Babys Breath and your favorite greens. It is so simple and makes you feel as if you are in a grassy meadow, next to a cool pond. You will be walking towards a natural paradise with natures white tone that reflects a goodness that all of us can relate with inside.
For your pet, you might want to try something really cute. Your dog will feel like a king or queen with a collar made from this exciting variety. You can even add some greens if you wish. You never want to leave your best friend without something celebratory, and they will surely look happy.
For the guys, don't forget your boutonnieres! You can assemble something very simple with a single stem Cream Rose, surrounded with just enough babys breath so that it's not too overpowering. You can also make matching ones for all the groomsmen and escorts.
If you are fastening your hair in the back, you might want to match the babys breath color with your dress and wearing a little on top of your fastened hair. It can appear like a hair tie and really match and coordinate with all of your wedding florals.
You can also make a floral crown. It's amazing how a little of this can go a long way in creating subtil highlights that will work wonders into your arrangements without having to become too extravagant.
Finally, we can suggest making wreaths out of babys breath and placing them on the backs of chairs. You will see how such tiny details greatly enhance everything you can imagine. If you can imagine it with this variety, it can be done.
At Whole Blossoms, we are on your side, and offer you the best available. Please visit our website www.wholeblossoms.com, or give us a call at 1-877-259-2566.