Are you looking for an exciting color for Wedding Flowers this winter? Why not choose Red Flowers? It's not just a color for Valentines Day, it is also a classy color for all kinds of wedding themes and it also goes very well with many other colors, such as White Flowers, Pink Flowers, Burgundy Flowers, Cream Flowers, Yellow Flowers, Gold Flowers, Silver Flowers, and much more. Imagine creating your perfect wedding and them top off your romantic evening with Red Rose Petals scattered all over your bed, with a gorgeous bouquet of Red Roses on your nightstand.
According to My Wedding, "Red wedding bouquets are more than just round bouquets of red roses. Embrace the loose, organic look that has become so popular in the last few years. This bouquet almost looks like it was arranged from flowers picked in a garden and includes flowers like roses and tulips, but even tiny wildflowers."
Confetti Daydreams has this to say about the color combinations with red in Flowers, "When it comes to red wedding flowers, the color combinations are seemingly endless. Burgundy red is an exquisite option to boldly pair with Navy Blue…Perhaps you envision a more muted approach, combining blush with copper and burgundy like this. One of the most popular palettes to come out of the past 18 months is the pairing of marsala and gold for gorgeous results!" Brides also has this to say, "Romantic red wedding bouquets are perfect for nearly every wedding season, but we especially love these punchy bundles of blooms for a wedding on Valentine's Day. After all, red is the indisputable color of passion, conveying love and romance whether they're the color of the flowers delivered to your doorstep as a sweet surprise from your partner or the hue of your wedding bouquet. Not only do these pretty petals evoke the Valentine's Day holiday spirit (in a non-cheesy way), but red wedding bouquets can really up the romance at your wedding no matter the time of year."
As you can see, this color is both versatile and desired, adding strength and beauty to all your Floral Arrangements, and we would like to give you a couple great examples to combine, as well as our most popular options available.
1. Blooms That Reveal Your Mood
As you search and consider some options for Wedding Bouquets, you want to find the Blooms that are going to speak for you and if you are a bold person, you may want to consider adding a large King Protea in with your Red Bouquet. People will notice your personality and your smile will glisten with perfection when you strut around with this beautiful combination.
2. Simply Roses
Another great consideration is to make it simple with Red Roses and a silk ribbon. You can also add some Chocolate Cosmos for sheer illuminance of desire.
3. Let It Cascade Down
You may also want a lovely cascade. Nothing looks more elegant than to have your Flowers cascading down, especially with the right combination of Blooms, such as Red Spray Roses, Pink
Spray Roses, and Ranunculus. These two varieties go very well together and can be seen with many models in popular wedding magazines.
4. Adding A Little Greenery
You may also want to consider the simplicity of red and green. These two colors contrast very well and are the most natural colors that go together. For this you can arrange Red Dahlias with Seeded Eucalyptus for a breathtaking arrangement.
5. Are You In A Tropical Mood?
Red is also a wonderful color if you are preparing to have a Tropical Wedding Theme. Along with your Red Flowers, you can add Protea, Anthurium, Orchids, Bird Of Paradise, Pincushion Protea, Ginger Flower, Fiddlehead Fern, and Heliconia.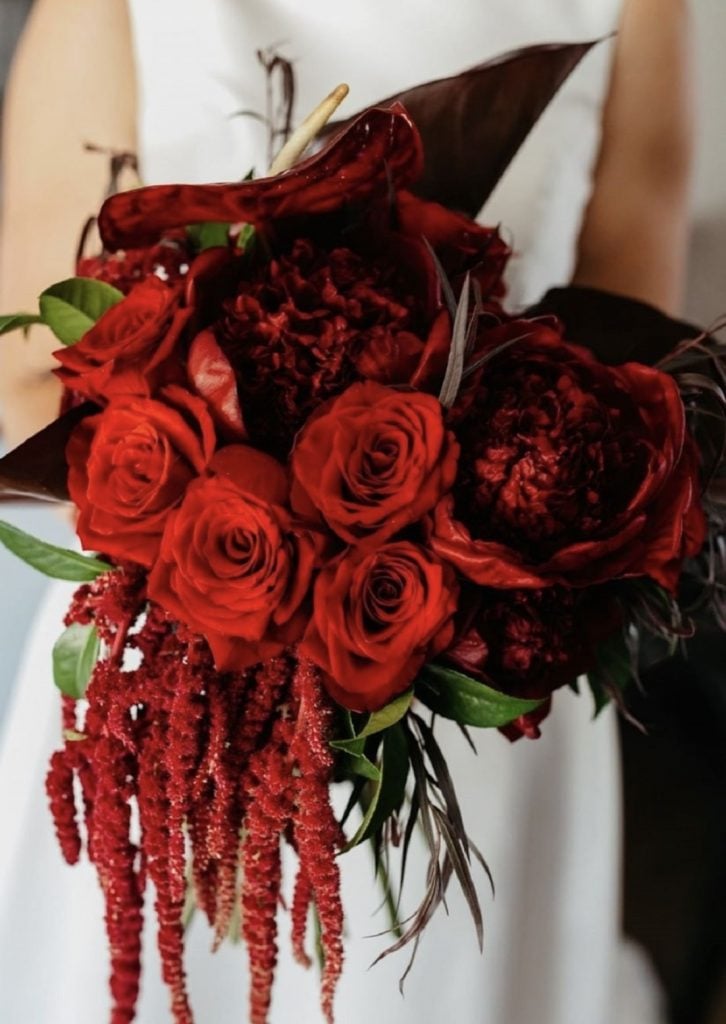 6. How About Some Contrasting Tones?
If you want to glide down the aisle with sophistication, you may want to add some muted contrasting tones, such as Peach Flowers, Bush Flowers, and Light Pink Flowers.
7. Go Out With A Bang
Finally, you may want to make your Flowers POP! With this you can just go all red! We have several brides right now who are having Red Wedding Theme and are going all red, for this you may consider some of our most popular varieties, such as:
Red Alstroemeria
Red Anemone
Red Celosia
Red Ginger Flower
Red Heliconia
Red Mokara Orchid
Red Amaryllis
Red Succulents
Bouvardia Red
Red Eryngium Thistle
Red Gerbera Daisy
Red Astilbe
Red Dahlia Flower
Red Pampas Grass
Red Sweetheart Roses
Freedom Red Rose Flower
Craspedia – Red Flowers
Red Chrysanthemum
Red Calla Lily
Red Anthurium
Red Peony
Red Carnation
We also have over 14,000 varieties of Flowers to choose from. Please visit our website www.wholeblossoms.com, or call us at 1-877-259-2566.