Bohemian weddings are back in season! They have a distinct soft and romantic feel which is inspired by nature and beautiful surroundings. The blend of beautiful ideas, including elements of natures, and romanticism and individuality is why the Boho style is famous. Even in the fashion world, this style is quite famous and has spread its wings far wide. It usually portrays free-spirited souls and draws influences from hippie culture. The authenticity of this wedding style is the prime reason why bohemian weddings will never fade out of style.
If you're looking for a Bohemian styled wedding for yourself, we have got just the right ideas for you. From bohemian dresses and jewelry to décor, bohemian style can be incorporated anywhere and everywhere. Airy dresses, wedding centerpieces, colorful textiles for the venue, and cascading bouquets, all belong to the Boho culture.
Think of an outdoor celebration with festival vibes surrounding everyone. You can get the look just as you read below points. We have brought you some great ideas and tips to make your Bohemian wedding a memorable one.
Send Boho Invites
Starting with the invitation cards, do something that gives the hint of your theme for the wedding. For example, you can style your invites with watercolors. Either get them printed or stretch a stroke on the cards. This will give an artsy look to the guests.
Another thing you can try is different stationery which looks retro. The envelope can be either a paper or cloth bag, or roll the invites and tie them with a ribbon.
Wedding Chair Decoration
For the Bohemian theme, decorate your chairs with flowers. Of course, that's a common idea but go for subtle and pastel colors like pink, peach, oranges, off white, etc. Usually, such designs include roses, so you can buy wholesale roses of different varieties and pair them with foliage to give a new look. You can also add peonies and carnations to fill up the floral arrangement.
Outdoor Wedding Reception
Try to book an outdoor venue for your bohemian weddings ceremony. It would not only seem different but also incorporate the natural surroundings, which are the underlying theme of Bohemian style. For the altar, try a macramé curtain. This simple and sober piece of cloth would look very elegant as a backdrop. It is a perfect combination of practicality, including sun rays and natural surroundings. You can also try a different arch made of the chuppah-teepee combo. It looks pretty vintage, and that's what we are talking about.
Bohemian Style for the Bride and Bridesmaids
Try a different colored gown for your big day. A custom gown of faintly tie-dyed silk satin and pink crinoline would be a good choice. Accessorize it with a simple necklace, crown, and a vintage purse to add to her hippie-chic look.
Similarly, allow the bridesmaids to rock the wedding. They can wear either crochet, lace or both. They can try new varieties, and vary in their lengths too. Colors too, don't need to be the same. Let them go free and wild with their choices.
Bohemian Wedding Bouquet for the Bride
Her bridal bouquet gives an extraordinary touch to the bride's wedding attire. To make look bohemian, you can compile beautiful flowers and make a DIY bridal bouquet. For this, you will need peonies, ranunculus, clematis recta, acacia, pink garden roses, and some foliage to fill the bouquet.
For the boutonnieres, you can choose wild and colorful flowers and put them together. The bridesmaids' dresses would look boho-chic, and the boutonnieres should complement their free-spirited look. Same for the groomsmen, and their hippie-boho look. Buy wholesale wedding flowers for your wedding look.
Hanging Flowers for the Venue
For the bohemian weddings themed party, it is essential to decorate the venue with the same look. Try hanging flowers to recreate the bohemian look. Buy bulk peonies, proteas and hang them from the ceiling through a ribbon or fishing wire. Another look you can try is macramé installations holding terracotta pots with cute and fresh flowering plants. This would complement the theme of the wedding and would impart the freshness everyone digs at the venue.
Flower Crown for the Bride
To add to the bride's boho-chic look, a bohemian flower crown is just the right thing. The arrangement of jasmine, sweet pea, ranunculus, roses, and rice flowers would look elegant and charming enough. You can add your favorite flowers too. After all, it is your big day!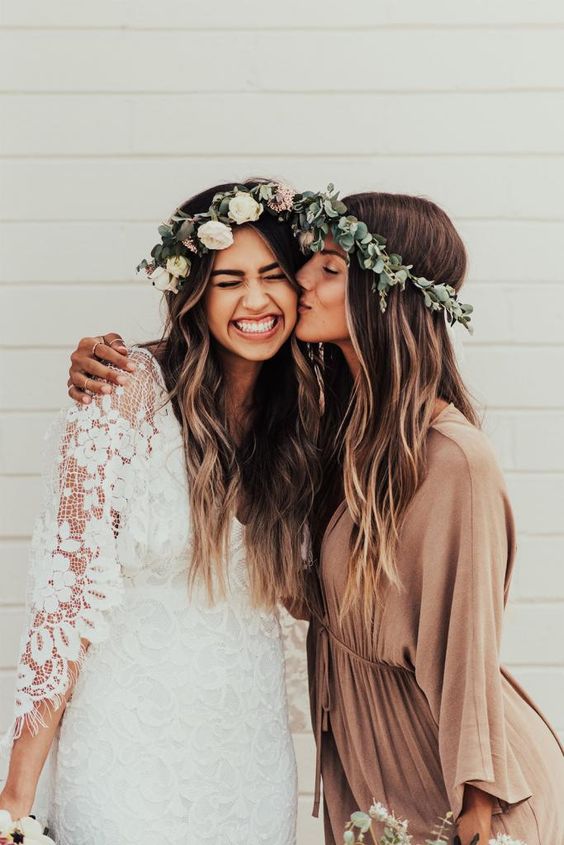 For your big day and bohemian themed wedding reception, you would need bulk wedding flowers. And you would find them in best prices and quality at Whole Blossoms. They provide doorstep services of wholesale wedding flowers with their freshness and quality intact. For all your wedding flower needs you can stop at this online store. This place is a house to all the different kind of flowers. You name it and Whole Blossoms have them all!