We all love onions for garnishing and using in our meals to make them more delicious. But what if we try arranging those onion bulbs in our homes to make them look better? That's weird, right? We are talking about Allium. Allium flower is a genus of the same flowering plant as edible onions and garlic. Allium flowers are small star-shaped blossoms, which form around, globe-like cluster. The most common and most extensive variety is Allium Giganteum. Its height can reach up to 4 to 6 feet and of purple color. Other than that, Allium has various types in colors like white, yellow, blue, and pink.
Why choose Alliums?
Allium flowers are irresistibly beautiful and great looking. Their balloon-like shape provides an excellent option for decorations for homes and events. Allium flower bouquets have a different enigma and look great while gifting to someone.
Alliums are very easy to take care of and multiply rapidly. They do not repeat the bloom; hence, you can leave the flower heads on the plant to dry. The dried seeds also look attractive and give the garden a whole new look. You can also use them for cut-flower arrangements. Another benefit which these flowers offer is that they are quite resistant to garden pests. They don't usually catch diseases. They are also great for the pollinators like butterflies, bees and garden insects. Allium flowers also keep away the animals by their scent.
Cool Allium arrangements you can try
Allium has proven to be one of the best plant choices so far. Hence, it makes everyone curious to try new ideas to incorporate these flowers in their houses or gardens. We have brought some useful and fresh ideas for you so that you can get a whole new look for your home or party.
#1 Pair the Purples with the Pinks
With pairing Allium flowers with flowers like Tulips, Carnation, and Scabiosa, you can get a vibrant looking bouquet for your drawing room. The purple sensation Allium paired with varieties of Tulips gives a fantastic look. The deep purple and pinkCarnation with bright blue Scabiosa flowers fill the remaining gaps in the bouquet. Put these flowers in a glass vase in some water to keep them well hydrated and moist.
This arrangement is perfect if you like romance and lovely feeling in your house. It is a classy and straightforward arrangement to suit your happy mood.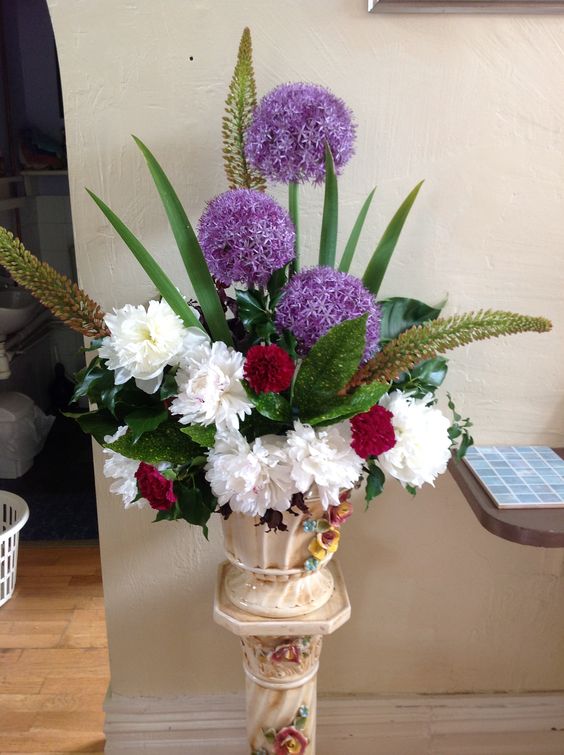 #2 Get a classic aura in your house
Purple Allium flowers give a classy feel when paired along with white and blue Hydrangea and Delphinium. Light pink shades of Viburnum and beautiful scents of Lavender add to the grace of the resulting flower combination. You can also add or remove some flowers according to your budget. Rhododendron and Cow Parsley are some other options to be considered.
One of the best decoration you can do on your big day with this Allium flower arrangement. This combination is best for parties and events like anniversary and marriage functions.
#3 Fresh Summer feel with Allium
Summer means yellow and combining bright colors like such with vibrancy is a very different idea to try. You can choose flowers like Sunflower, with fresh bluish Delphinium, and "bleeding hearts" or Dicentra. Other flowers which you may like are Roses (of colors like white, yellow, pink, and orange) and Gypsophila, to fill the remaining gaps and give a delicate appearance to your bouquet.
This Allium flower combination is not only colorful and fresh but also appeals to the eyes and gives a relaxed feeling. From wedding bouquets to home decors, this Allium arrangement can be done everywhere and with great ease.
#4 August feeling with light colors
August is the month of sunshine and surrounding with light and cool colors. This flower arrangement idea hits the right feels. A simple bouquet comprising of Delphinium, Allium, and Gladiolus is the perfect idea for this. White Delphinium goes well with the white shade of Bulk Allium flower. Gladiolus adds the spark. Addition of little Ammi Majus flowers (or the bullwort), along with the light shade of Cosmea makes this arrangement more interesting.
The best thing about this arrangement is that it is versatile. You can keep it in bedrooms, drawing rooms, as home décor, and use it for gifting too! The combination brings pleasure and light-heartedness, just as you like in summers.
#5 Big flowers for big lovers
If you're a big Allium bouquet lover and always look for such ideas to incorporate, then this suggestion is for you. You can take a yellow Gladiolus with giant stem, along with lilac Delphinium and classic yellow-brown Sunflower. An indigo Allium Gigantium, a charming Gloriosa with delicate Lathyrus also add to the charisma.
You would need a large vase to put these in. These flowers of different varieties and color shades give a striking appearance when put together.
Issues of the freshness of flowers and their price range have always been one of the concerns for any decoration or party. With the best flower arrangement ideas rises a concern- where to buy Allium flowers on the best deals? Whole Blossoms is a place where you would find the solutions to both of your problems. We are farm-direct wholesalers based in the US, who import fresh cut, premium flowers on wholesale. We are not an online florist but bring the fresh flowers of your choice from the farms to your doorstep directly. Hence, the issues with your florist are sidelined. Whole Blossoms ensure safe and fresh delivery of wholesale flowers of the highest quality. Our prices are also very affordable; hence you wouldn't have to worry about your budget. You will also get giant Allium flowers for sale along with great deals on other flowers. We commit to provide their customers with the best qualities of flowers, bouquets, foliage, fillers and on pocket-friendly prices.