Another summer season has quickly come and gone and planning for a fall wedding is still not too late. Perhaps you are considering a wedding but are still perplexed as to what colors will stand out and create a beautiful memory and tantalizing statement of this once in a lifetime event.
If you go online you can see many suggestions that are very appealing and could go well, each in their own way. Deciding what's right for you may not define you, but says a lot about how you think and feel as a person and as a couple. At Whole Blossoms, we have made a list of our top five Fall Colors For Wedding Flowers that have historically and traditionally been ordered and successfully used from our brides.
Color Combination #1: Deep Green and Bright White
Deep green is a color that relates well with stability, assurance, and persistence. In nature the balance of green is everywhere and though Fall typically has the colorful, aging colors, Dark Green demonstrates how persistent you are as a couple and hope to be in the future with your walk and life. We recommend adding plenty of greens such as: Salal Tips Lemon Leaf Flower, Leather Leaf Flower Filler, and Monstera Leaves Filler can greatly enhance every floral arrangement.
Life is short, but love can last for ever with the undying color of green. Combing with white can be the most shocking fall color combination as they speak of spiritual values of purity, commitment and unfeigned love.
Color Combination #2: Pumpkin, Sage, And Blush
These Fall Color Flowers For Wedding can be considered the more traditional colors that many conceive in their minds when contemplating a wedding during the autumn months. We recommend using varieties of greens such as: Israeli Ruscus Green Filler, Salal Ruscus Garland, and Baby Blue Eucalyptus Flowers. Any green with a shade of sage tint can convey the idea of wisdom and has a more woody sensation to complement Blush and Pumpkin colored flowers.
Having a bountiful number of centerpieces and arrangements can be greatly desirable for both indoor and outdoor weddings.
Color Combination #3: Rich Purple Shades
Rich purple shades have really become popular for fall weddings and we have many flower color varieties that are typically selected for your floral presentations. There are many reasons for choosing this color theme, but emotionally, the message conveyed is:  stability, energy, power, luxury, nobility, and ambition. This color seems to set a standard that many have continued to select for this very special time of the year.
For Greens, we offer Eggplant Oak Leaves, and Tinted Purple Salidago Flower. We also have some really enticing flower varieties, such as: Blue Purple Orchids Dyed Dendrobium, Purple Alstroemeria Flower, Purple Dahlias, and Purple Tulip Flowers. We also recommend purple roses and carnations.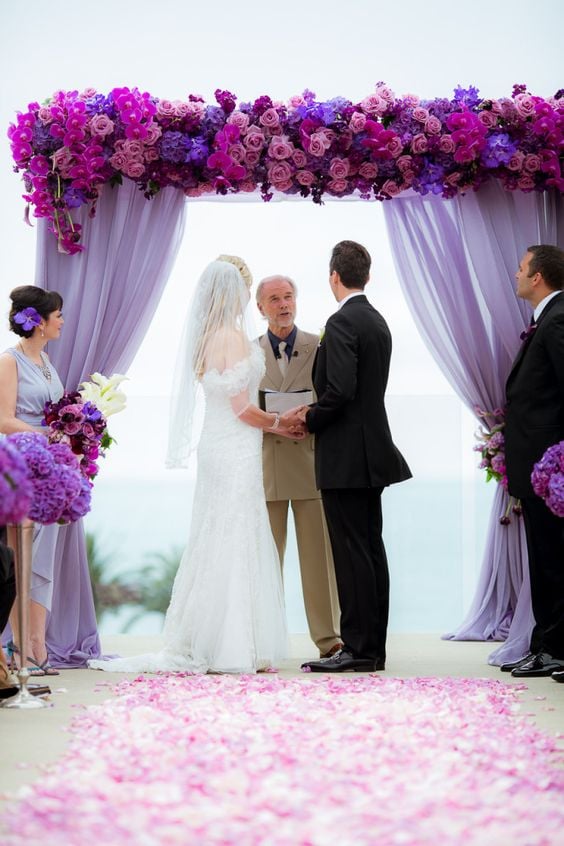 Color Combination #4: Boysenberry, White, and Navy
If are considering selecting this wonder combination of colors, you will find that it complements many themes, colors, and varieties. A wedding with these colors can be mesmerizing for all your wedding guests. Not only can you say what you want to say without words, such a grand color scheme will make you fall in love with wonder and excitement and at the same time, present a pleasant display of flower arrangements that look tremendous in indoor weddings.
We have many blue varieties to choose from such as: Blue Delphinium, blue roses, and even a blue glittered rose. Arranging these with white peonies, roses, and carnations and burgundy dahlia flower or Calla Lily Dark Schwarzwalder Black Star can be nothing like have ever seen before with unique floral arrangements.
Color Combination #5: Elegant Navy and Gold
This is another typical color combination that is selected late fall or even early winter month weddings. You may wish to decorate your table arrangements with plenty of blue and gold from table cloths, napkins, napkin holders, chair backs, vases, and much more.
We have several varieties with gold that will be a perfect match for any blue variety, giving your arrangements a timeless and enchanting presentation. Here are some variety ideas: Airbrushed Gold Hydrangeas, Mokara Orchid Gold Flower, Cat Tail Filler Flower, Craspedia Tinted Gold, Gold Eryngium Thistle, Succulent Painted Gold, Hypericum Tinted Gold Flower, Tinted Gold Aster Solidago Flower.
We hope that these exciting combinations have been helpful in finding your Best Flower Colors For Fall Weddings. There are many important aspects for your wedding planning and it all starts with the color scheme and theme. We are always ready to assist you and answer any questions regarding your arrangements and floral planning.