'A wedding is the celebration of love, trust, partnership, tolerance and tenacity.' – Anonymous
Getting married is a wonderful feeling. It is the beginning of a new journey where two people hold their hand together and take the vow to spend their good and bad times together. This is the reason that we humans like to celebrate this occasion on a grand level.
If you are getting married, then certainly you must be worried about the decoration and floral arrangements. In today's post we will be talking about one such element of the wedding décor that is going to be the center of attraction.
We will be talking about decorating the head table with beautiful flowers. As we all know that this is going to be one of the most important elements of the wedding décor, so we are going to show you some simple ideas on how you can use flowers to create an awe inspiring wedding flower decoration.
And, the decoration we are talking about here is – head table for your wedding event!
So, without wasting any time let us take a look at how to go about it –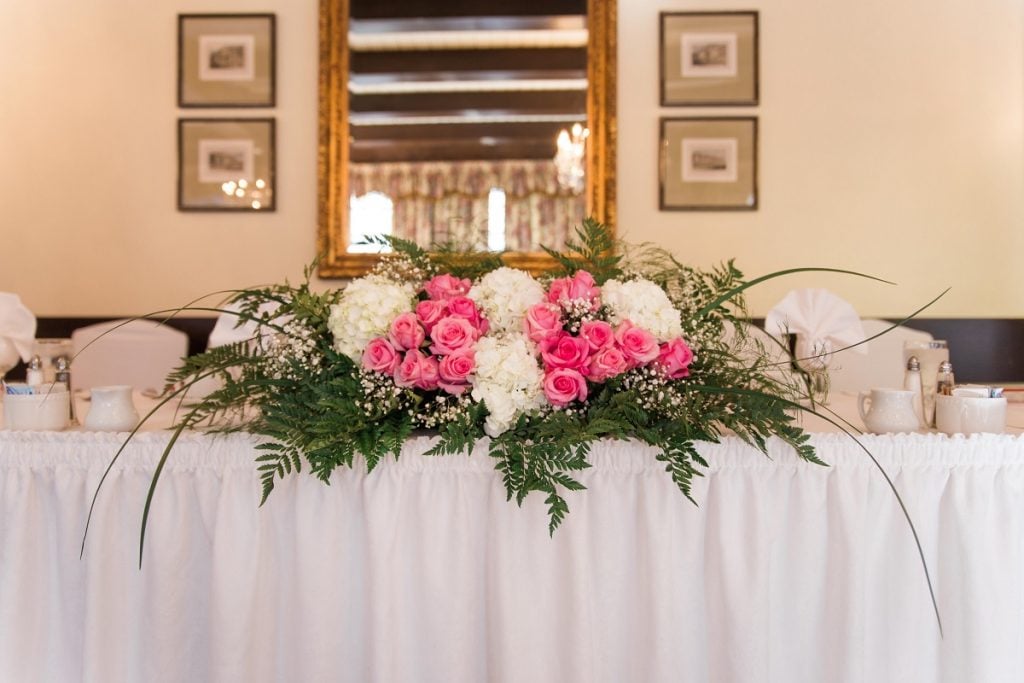 Things needed
Let us first of all get to know about the accessories and adornments you are going to need to create the arrangement.
Of course, the first thing you are going to need to create a magnificent looking affair is wedding flowers. Depending on the theme you choose for the event, you can go with the choice of flowers. For instance, if you have chosen to decorate the venue with lilies, then it is quite obvious that you would either use lilies for table décor or some other flower that is going to complement lilies.
For those of you who are worried about buying these wholesale flowers, one of the best places to visit is Whole Blossoms. As one of the finest online places to get bulk flowers, flower bouquets and almost everything related to flowers for your wedding event, these professionals can be just the perfect choice for you.
Apart from flowers, you are going to need accessories to decorate the table. These could include candles, ribbons, balloons, and everything else that you think could solve the purpose.
Once you have all the accessories handy, it is time to get going with the table décor.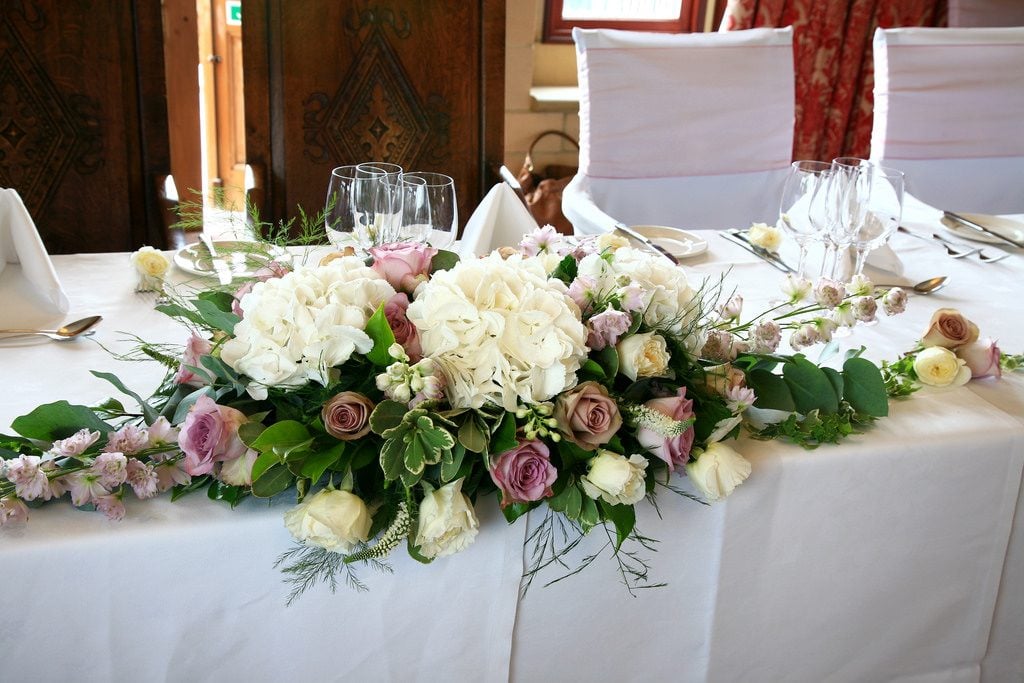 Arranging the centerpieces
One of the first things you can do to make sure that the head table is crafted into an awe inspiring embellishment is to choose the right volume and flowers for the centerpieces.
There are virtually endless options available in the market when it comes to centerpieces. As a matter of fact, you can either choose to buy the centerpieces from the market or online or even create them on your own by grabbing the floral blooms in bulk from Whole Blossoms.
Pick a color for the occasion. For instance, if you want to craft a wedding event that exudes romance then choosing red as the theme of the wedding decoration and head the table arrangement could be the best idea.
Talking about red arrangement, the first flower that comes to mind instantly is red rose. There are some of the amazing ideas to use red rose for decorating the head table.
Now coming to the more important question – how to decorate the head table for wedding
Well, here are some of the accessories that you can bring for the decoration –
Floral bouquets
To begin with, the first thing you can put on the table for the wedding décor is those beautifully crafted bouquets. Red roses have always been one of the most loved flowers when it comes to wedding décor. And there is nothing quite beautiful like them when you use them for creating wonderful floral bouquets. So, the first thing that you can put on the head table for a mesmerizing wedding décor is floral bouquets.
There is no dearth of options available in the market when it comes to floral bouquets. From roses to lilies, from gerberas to daisies, you can eventually get some of the most amazing flower blooms crafted in the form of bouquets to be used in your wedding décor.
Floral centerpieces
Another accessory without which the head table decoration cannot be complete ever is centerpieces. Based on the theme and color of the event, you can eventually pick centerpieces from a variety of options.
For instance, if you are keeping blue as the theme of your event it is a great idea to use blue lilies as your centerpieces. Similarly if you have chosen gerberas as the flower for the decoration of the venue, you can choose any flower that complements these gerberas as your centerpieces.
If you are still unsure of the flower decoration ideas, you can always visit Whole Blossoms to check out the amazing range of flower bouquets, centerpieces and what not.
Floral balls
Now the above mentioned two items were quite common. The third important accessory which you can bring to your wedding décor is floral balls.
Many people would be wondering how you would use these balls on the table. Well, the answer is pretty simple – hang them on top of the table!
Just imagine how magical it would appear – beautiful floral balls hanging on the top of the head table. As a matter of fact, you can pair these balls up with various lightning and other similar accessories to create a magical affair.
The best thing about these balls is that you can easily create them on your own. All you need to create these floral balls is some beautiful flowers of your choice, foam, ribbons and basic products like glue, florist tape and that's about it!
Greenery
Apart from the options mentioned above, another easy-on-the-pocket accessory that you can get to your head table for an awe inspiring wedding décor is greenery.
What makes greenery such an amazing choice for wedding décor is the fact that you can pair it with every setup. Whether you have chosen an indoor theme for your wedding event, or an extravagant outdoor wedding affair, these greeneries can be used in virtually countless ways in the wedding décor.
Throw them in the flower bouquets, use them as part of the centerpieces or use them solely for the head table and chair decoration. There is no dearth of options on how to use these beautiful blossoms.
As a matter of fact, greenery is one of the most used and popular artifacts in every wedding décor. So, it is a smart idea to bring this flower to decorate your head table as well.
Table runners
One of the traditional ways to setup your table for wedding décor is to use table runners. These are strips of fabric and lace, draped with floral strips that run from one end of the table to the other end.
If you have ever been to a wedding event, you would have seen these beautiful pieces of adornment being used in the wedding décor.
Therefore, you cannot forget about including table runners to your wedding event when it comes to decoration of your head table.
The best thing is that you can expect to get almost all the floral varieties that you are going to need to use as part of the table runners here at Whole Blossoms. Being one of the most popular and easily accessible online stores for wholesale flowers, you can forget all your worries of running around in the market looking for blossoms. All you have to do is to visit Whole Blossoms and place your order for flowers in bulk and get them all delivered right at your doorstep. What else can you ask for?
Don't forget about the chairs
Now that you have a pretty good idea on how to use floral arrangements for table decoration, the next step is to use the same level of creativity for decorating the chairs as well.
Whether you use some exotic flowers for table décor, or greenery or even ribbons, you must not forget the basic rule – it must all be in sync!
So, don't make the mistake of using a different floral variety in the centerpieces, a new one in the bouquet and something else to decorate the chair. You have to make sure everything is in sync so that things don't look bad!
A great way to achieve this is by checking out some floral design ideas on the internet. Or, you can even get in touch with professionals from Whole Blossoms. They will be able to guide you in the best possible manner when it comes to creating mastering wedding décor.
As you can already see, we have shared some simple and effective tips on how to make the most of your head table decoration. Now it is time for you to step up your game and get going with the decoration by creating beautiful flower bouquets, centerpieces, and what not.
So, what are you waiting for? Go ahead and place the order for flowers and other accessories and get going!
Still wondering from where to order flowers in bulk? Stop wasting time running everywhere in the market and simply go to Whole Blossoms – and you can expect to get a never ending range of flowers, floral bouquets, centerpieces, and everything else that you are going to need to create a mesmerizing wedding event.
After all, you would not want to waste time running everywhere in the market looking for flowers at one place, and bouquets at another and other accessories somewhere else.