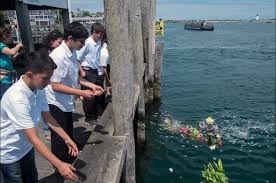 If your wedding will take place on the beach, either lakeside or Oceanside, or on a yacht, you have the perfect opportunity to cast tribute flowers into the water as you remember your departed loved ones.
Tossing flowers into the ocean has long been a ritual in many cultures; with some bearing the interpretation that you are offering flowers out to the souls of the departed that now exist as part of nature out in the horizon. Other cultures practice water-based floral rituals as an offering to the gods and mythic characters that are said to transport the souls of the departed to the hereafter. And still others hold fast to the concept of water being the main element of life, and by offering gifts to the sea you support the "lives" of those who have passed to another realm. And some couples just like the practice of throwing flowers into the sea and watching them float gently on the waves. No deep spiritual meanings for them.
You can learn to design the floral pieces that you can use in your on-the-water remembrance rituals, deciding on your loved one's favorite flowers, colors, and other personalizes choices.
There are three ways you can create your remembrance rituals:
1.       Rituals Using Single Flowers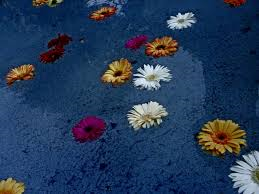 Give each guest a single short stemmed flower to toss in the water
Decide if you wish to cast all white flowers, or if you wish to create a colorful bloom tribute with multiple hues of flowers
If stems are too unwieldy, hand out flower heads such as daisies, which are better floaters than rose heads.
If you prefer, keep this ritual to yourselves; be the only ones to toss your single white, red, or other colored flowers out to sea.
2.       Rituals Using Wreaths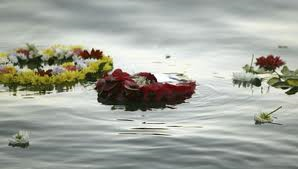 Fashion smaller wreaths, almost the size of bracelets, for your guests to throw into the water.
Toss two wreaths into the water, one for relatives and friends on each side of the family.
A third wreath might be thrown in memory of departed friends you share in your own relationship.
3.       Rituals Using Petals
Rather than throw stemmed flowers, wreaths, or bouquets into the water, toss handfuls of pretty petals. The most popular color is white for these water tributes, with bright colors coming in a surprising second place.
Again, the two of you may be the only ones to sprinkle your flower petals into the surf or over the railing of the yacht to decorate the water surrounding your floating ceremony.
Some other flowers you can use are: dahlias, and sunflowers. If you are considering a personal event like this, please allow Whole Blossoms Wholesale Flowers assist you with all of your floral needs. They will be glad to help you choose the right flowers for such a solemn occasion. Just go to their website at www.wholeblossoms.com.