August weddings are a celebration of late summer blooms. Incorporating seasonal flowers in your arrangements not only adds a touch of elegance but also keeps the décor vibrant and fresh. Here, we'll guide you through the process of creating the perfect flower arrangements for an August wedding.  August is a popular month for weddings, with its long, sunny days and reliably warm weather. The extended daylight hours offer flexibility for scheduling ceremonies and receptions, and the abundant sunshine creates a perfect backdrop for stunning wedding photos. In terms of floral choices, brides typically lean towards seasonal blooms. Dahlias, with their vibrant hues and intricate petal patterns, are a favorite for August weddings. Sunflowers, another August bloom, add a touch of rustic charm and a pop of color. Roses, hydrangeas, and lilies are also popular choices, offering a range of colors and styles to suit any wedding theme. 
The choice between an indoor and outdoor wedding in August largely depends on personal preferences and the specific weather conditions expected at the chosen location. Generally, August weather in many locations is conducive to outdoor ceremonies, with warm temperatures, extended daylight hours, and vibrant summer blooms setting a picturesque scene. However, it's also known for occasional high heat or sudden thunderstorms, which could cause discomfort for guests or disrupt the proceedings. Indoor weddings, on the other hand, offer a controlled environment, shelter from unpredictable weather, and often provide options for more elaborate décor. However, they may not capture that quintessential summer feeling that many couples desire for an August wedding. In conclusion, there is no definitive answer, and the final decision should reflect the couple's overall vision for their special day.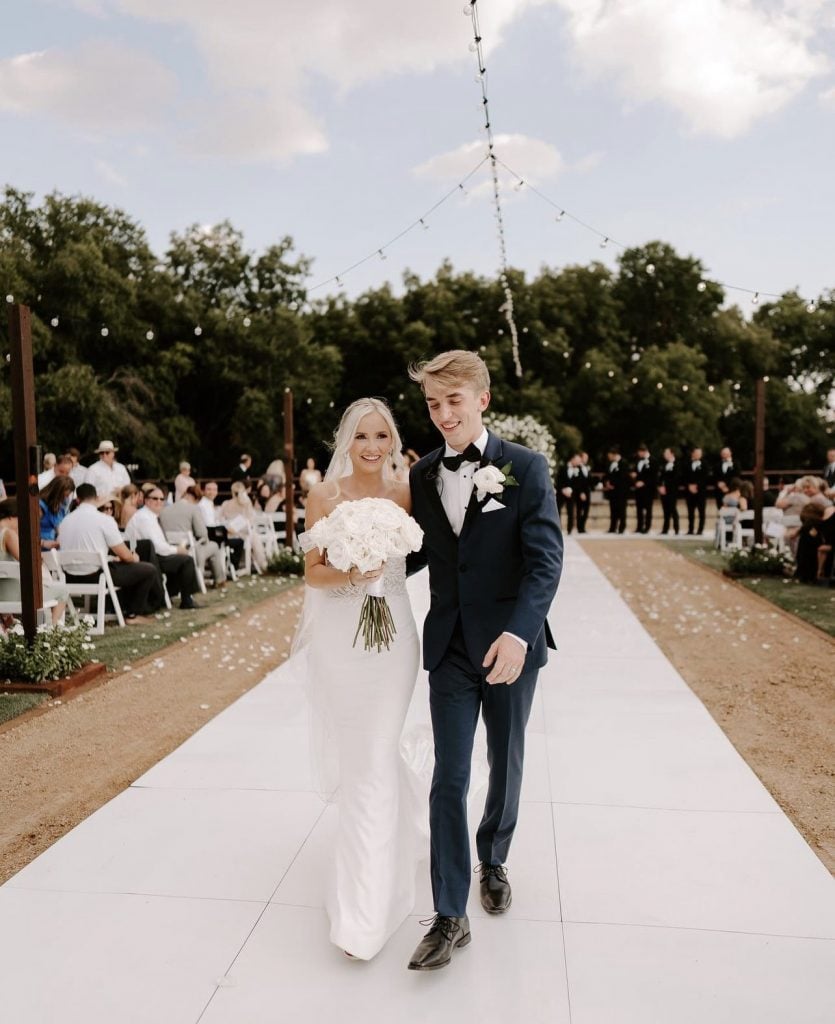 In August, a variety of wedding themes can capture the essence of late summer while offering a unique ambiance for your special day. One popular choice is a beach or coastal theme, taking advantage of the warm weather and often coinciding with vacation time for many guests. Bright colors, seashells, and nautical elements can bring this theme to life.
A rustic countryside theme is another great option for August, highlighting natural charm with elements like barn venues, wildflowers, and farm-to-table cuisine. Alternatively, a garden party theme can make the most of the lush floral abundance of late summer, featuring outdoor seating, floral arches, and a menu of fresh, seasonal ingredients.
For a more relaxed vibe, consider a boho-chic theme. This can incorporate an eclectic mix of design elements, from vintage furniture and colorful textiles to whimsical floral arrangements. Lastly, if you're a lover of the night sky, an under-the-stars theme can be magical for an August wedding, especially if your location has clear, late-summer skies. Twinkling fairy lights, constellation motifs, and a telescope for stargazing can add a touch of enchantment to your event.
Sunflowers, with their bright and cheerful demeanor, are a delightful choice for August wedding arrangements. These big, bold flowers can be used in numerous ways to enhance your wedding decor. For the bridal bouquet, consider a vibrant mix of sunflowers and ferns, providing a delightful contrast of yellow and green. This combination not only symbolizes summer but also adds a rustic charm to your bouquet.
For the reception, sunflowers can be used as table centerpieces. Paired with mason jars and lace, they can create a stunning rustic arrangement. For a more elegant look, sunflowers can be arranged with white dahlias or hydrangeas in tall glass vases. This not only adds height to your tablescape but also brings in the warmth of summer.
Another unique idea involves using sunflowers as part of the wedding arch. Intertwining sunflowers with ivy or eucalyptus creates a stunning backdrop for the ceremony. Matching sunflower boutonnieres for the groom and groomsmen and sunflower crowns for bridesmaids or flower girls can tie everything together beautifully. Finally, sunflowers can be incorporated into wedding cakes, either as edible sugar decorations or as part of the cake display.
Creating a standout sunflower centerpiece for an August wedding involves a blend of imagination and strategic placement. For a unique presentation, consider using an antique lantern as the core of your centerpiece and surround it with a ring of bright sunflowers. This gives a rustic yet elegant look that glows with the added warmth of candlelight. Alternatively, a tall glass cylinder filled with sunflower heads, topped with a floating candle, can make a dramatic statement. For a simple but effective touch, tie a burlap ribbon around the vase or jar holding the sunflowers – this enhances the natural, rustic charm that sunflowers bring. For an added pop of color, intersperse sunflowers with smaller blooms in contrasting colors, such as purple lavender or blue cornflowers. Finally, remember to consider the lighting. Spotlights shone on the centerpieces can make the vibrant yellow of the sunflowers even more captivating, creating a beautiful focal point on each table.
Roses can be a beautiful addition to sunflower arrangements, contributing both texture and color. For a harmonious, warm color palette, consider incorporating orange and peach roses. These shades echo the vibrant yellow of the sunflowers, enhancing the overall sun-kissed effect. To create a contrast that makes the arrangement pop, use deep red or burgundy roses. The rich, dark hues will offset the bright sunflower yellows, creating a striking visual contrast. White roses can also work beautifully, providing a neutral balance that accentuates the bright sunflower yellows without competing for attention. Finally, for a fun and whimsical touch, pink roses can bring a hint of romance and a splash of unexpected color to a sunflower arrangement.
As a trusted floral supplier, Whole Blossoms can play an integral role in making your wedding day truly memorable. With our commitment to providing fresh, high-quality flowers directly from the farm to your event, you can rest assured that your floral arrangements will be at their best. Whether you're seeking sunflowers for your rustic summer wedding, roses for a contrasting bouquet, or a specific flower type to match your theme, Whole Blossoms is equipped to meet your needs. We offer a wide variety of flowers, allowing you to choose the perfect blooms to complement your wedding décor. Our team provides expert guidance, helping you select flowers that not only match your vision but also thrive in your wedding month. Furthermore, our competitive pricing and efficient delivery service ensure that you can have your dream flowers without breaking the bank or the last-minute stress. With Whole Blossoms by your side, your wedding flowers will be nothing short of spectacular. Visit our website www.wholeblossoms.com