Peonies, with their lush, full, rounded bloom, are often considered as one of the most romantic flowers for weddings. Their delicate petals and rich colors ranging from crisp white to deep burgundy symbolize a myriad of beautiful qualities like prosperity, honor, and a blissful marriage. Moreover, their intoxicating fragrance adds an ethereal charm to the wedding ambiance, making them a sublime choice for bridal bouquets, centerpieces, and decorations. In this article, we delve deeper into the captivating beauty of peonies and their significance in making your wedding day magical.
Peonies come in a stunning palette of hues, each color carrying its own unique charm and resonance. The classic white peonies, embodying purity, and innocence, serve as a perfect choice for a traditional wedding. The soft pink varieties, with their subtle charm, evoke a sense of romance and elegance, while the deep burgundy peonies provide a dramatic, passionate touch. The vibrant coral peonies, on the other hand, offer a striking pop of color, bringing in an element of vivacity and warmth. Moreover, the rare yellow peonies symbolize a joyful union and prosperity, making them an exquisite addition to the bridal bouquet. Each color of the peony holds a special significance, allowing you to customize your wedding theme according to your personal tastes and the message you wish to convey.
Among the many varieties, the Sarah Bernhardt peony reigns supreme as the most popular choice for weddings. Named after the famed French actress, these peonies are known for their exquisite, double-layered petals in a soft, blush-pink hue, exuding an air of timeless elegance and sophistication. Their impressive size and sweet fragrance further contribute to their popularity, making them a striking focal point in any bridal bouquet or floral arrangement. The Sarah Bernhardt peony, with its symbolic associations of romance, prosperity, and honor, truly encapsulates the joy, love, and hope inherent in every wedding celebration.
Here is a list of Peonies for Summer Wedding Themes:
Classic Elegance: White peonies combined with hints of green from ferns or eucalyptus leaves perfectly capture the essence of a classic and elegant summer wedding.
Boho Chic: Combine vibrant coral peonies with wildflowers and greenery for a boho chic theme.
Romantic Sunset: Use a palette of soft pink and deep burgundy peonies to recreate the magical hues of a summer sunset.
Tropical Bliss: Pair bright coral peonies with exotic flowers and fruits for a striking tropical theme.
Vintage Charm: Soft pink Sarah Bernhardt peonies paired with antique elements like lace and pearl can create a dreamy vintage theme.
Rustic Glamour: Pair the lush burgundy peonies with rustic elements like wood and burlap for a rustic yet glamorous wedding.
Joyful Celebration: Yellow peonies, symbolizing a joyful union and prosperity, would be the star of a vibrant and joyous wedding theme.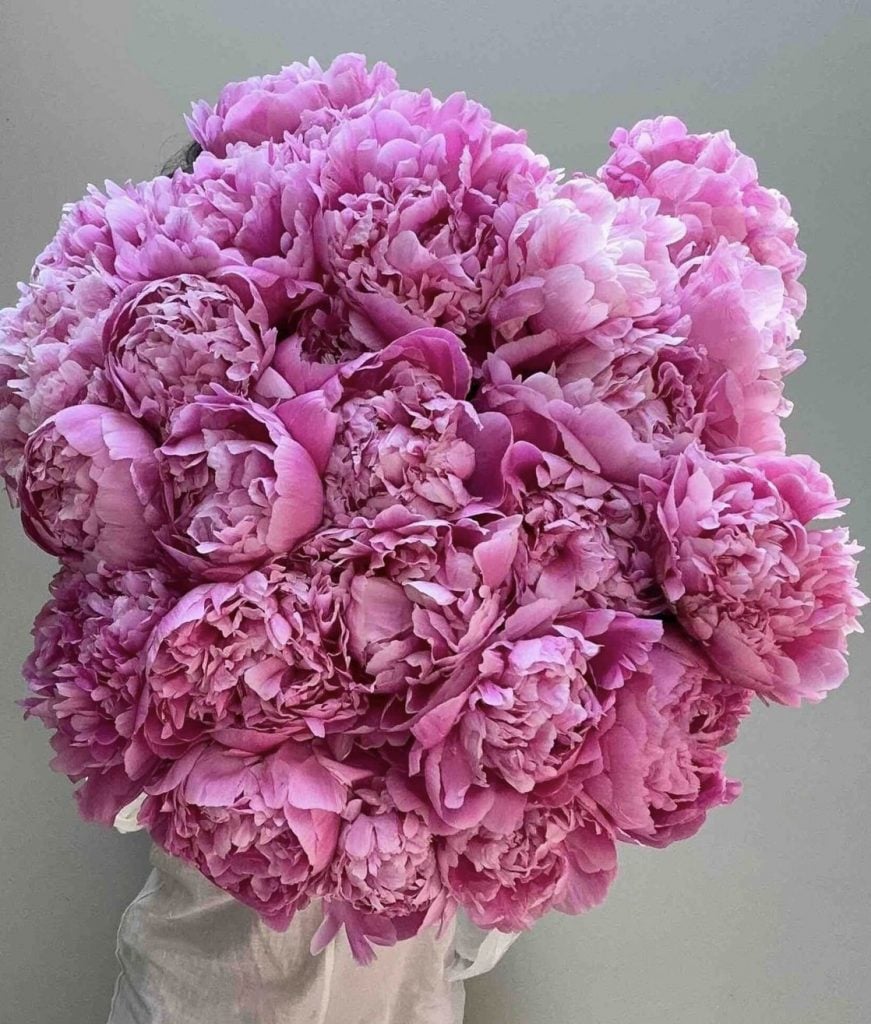 Here is a list of Peonies for Winter Wedding Themes:
Winter Wonderland: The pure, crisp white peonies, reminiscent of fresh snowfall, ornamented with silver dusted pinecones and sprigs of holly, create a stunning winter wonderland theme.
Frosty Elegance: Soft pink peonies paired with elements of white and silver mirror the frosty hues of a winter landscape, lending an air of elegance to your wedding.
Holiday Cheer: Pair the rare, joyful yellow peonies with seasonal adornments like red berries and evergreen branches for a festive holiday theme.
Rustic Winter: Deep burgundy peonies combined with elements like pinecones, wood, and burlap create a warm, rustic theme for a cozy winter wedding.
Vintage Holiday: Sarah Bernhardt peonies, with their blush-pink hue and antique lace accompaniments, are perfect for a vintage-inspired winter wedding.
Winter Romance: A combination of deep burgundy and soft pink peonies evoke the passionate and romantic hues of a winter sunset.
Merlot Magic: Rich burgundy peonies, symbolizing a passionate love, paired with touches of gold bring warmth and opulence to a winter wedding theme.
Here is a list of Peonies for Spring Wedding themes:
Pastel Paradise: The delicate hues of soft pink peonies, mingled with other pastel-toned flowers, evoke the enchanting beauty of springtime, perfect for a pastel paradise theme.
Enchanted Garden: A blend of lush white and vibrant coral peonies creates an enchanted garden theme, symbolizing new beginnings and vitality.
Spring Romance: Soft pink peonies, reminiscent of the first blush of spring, paired with white accents, create an air of romance and elegance.
Woodland Wonder: Deep burgundy peonies, accented with green foliage and woodland elements, capture the earthy magic of a springtime forest.
Vintage Spring: Couple the timeless Sarah Bernhardt peonies with vintage elements like lace and pearls for a classic spring wedding.
Fresh Elegance: The crisp white peonies, symbolic of purity, paired with fresh green foliage, epitomize the freshness and elegance of spring.
Joyous Spring: The rare yellow peonies, symbolic of joy and prosperity, complemented with an array of spring flowers, make a cheerful theme for a joyous spring wedding.
Here is a list of fall wedding themes with Peonies:
Autumn Elegance: The deep burgundy peonies, reflecting the rich hues of autumn, paired with gold accents encapsulate the elegance of the season.
Harvest Charm: The vibrant coral peonies, paired with autumn leaves and seasonal harvest elements, create a charming fall wedding theme.
Rustic Fall: Deep burgundy peonies combined with rustic elements such as wood, burlap, and autumn leaves, perfect a cozy, rustic fall wedding.
Vintage Autumn: Soft pink Sarah Bernhardt peonies, coupled with vintage elements such as lace and antique gold, create a dreamy, vintage fall theme.
Fall Sunset: A mix of soft pink and deep burgundy peonies capture the captivating hues of an autumn sunset for a romantic wedding theme.
Autumn Bliss: Bright coral peonies, reflecting the vibrant colors of fall, paired with autumn fruits for a cheerful and lively theme.
Fall Abundance: The rare yellow peonies, signifying joy and prosperity, coupled with autumn fruits and leaves, create a theme that celebrates the abundance of the fall season.
As you can see, the allure of peonies extends throughout all seasons, making them a versatile choice for weddings at any time of the year. Their varied hues and blooming styles can complement and enhance a multitude of wedding themes, whether you are envisioning a cozy winter ceremony, a vibrant summer celebration, a charming fall fete, or springtime nuptials brimming with freshness. From the delicate pastels of spring to the vibrant corals of summer, the rich burgundies of fall, and the crisp whites of winter, peonies truly embody the magical essence of each season. Their timeless elegance, combined with their rich symbolic meanings of love, prosperity, and honor, makes them a truly enchanting choice for any wedding.
Discover the enchanting world of peonies at Whole Blossoms. We offer a remarkable range of peony varieties perfect for every season and wedding theme. Our blooms are available all year round, ensuring premium quality blossoms for your big day. Whether you're planning a springtime nuptial brimming with freshness, a vibrant summer celebration, a charming fall fete, or a cozy winter ceremony, our peonies embody the magical essence of each season. Browse through our selection today and let the timeless elegance of peonies transform your wedding into a truly enchanting event. 
Visit our website www.wholeblossoms.com to learn more…