The epitome of romance flower crown which personifies all beautiful and being able to wear a pretty, felicitous spray of wedding flowers can make any women feel like a queen. This trending boho style flower crown, one can spot beautiful flower crowns in weddings and we admire them all.
It's no secret that girls search for excuses to embellish their hairs with wholesale flowers, and this is the reason why flower crowns have become the most famous bridal accessories. These beautiful natural hairpieces have first been spotted in bohemian ceremonies as a delicate option to veils, and soon brides began weaving vivid floral headgear to beautiful every wedding theme from elegant and graceful to classical. Currently looking at the way in which floral crowns are used, the trend is in no intention of winding up in near future.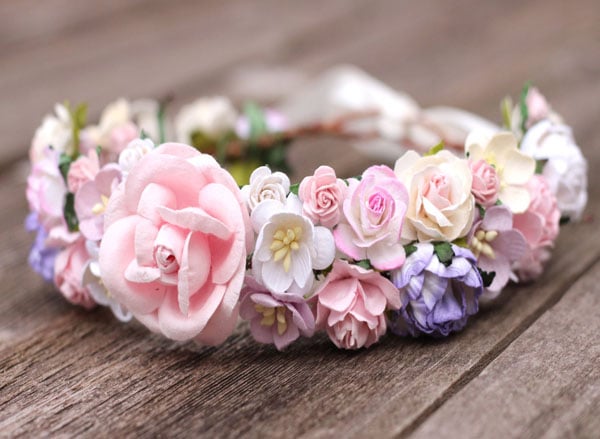 Grab up the look
Most crowns are crafted out of thick wires, which can be easily molded according to your head, supported by bobby pins which provide stability and don't allow it to fall off. Ensure to use hairspray your hairs before you wear your crown. Beware and never use hairspray on fresh flowers as they mess up with fragrance. Avoid placing your bulk flower crown in the refrigerator along with food, as they will make your flowers wilt. Don't touch your crown frequently as our natural oils will make them brown and cause bruises on them
It can be lots of fun and easy to craft out your own flower crown. However it can be a taxing for brides-to-be to add this to your bucket list as most of them requires to be assembled on the morning of the event, so better leave this work to your florist. But in general, crafting out flower crowns is an easy task and you could figure out some stunning DIY tutorials using DIY wedding flowers for them as you browse the internet, just in case you want to try your hand in it.
Step 1: collect the material
Here is all the stuff that you require:
Bulk flowers of 2 or 3 kinds, cut short into 3-inch pieces (Micro daisies, yellow pompoms, and purple static are excellent options)
— Fillers of 2 or 3 kinds, such as baby breathes or aster flowers, cut short into 3-inch pieces
— Twine covered, pliable wire such as oasis wire
— Floral wire
— Floral tape
— Ribbon or plain twine
— Plain twine or ribbon
— Sharp scissors for pruning shear
Tips— to save money and visiting a florist, you may purchase a bouquet from the grocery store that carries both fillers and flowers.
Step 2: Cut The Pliable Twine
Wrap the pliable twine around your head to ascertain the length required for the crown. It should approximately 2 feet, but don't panic you don't need exact measurements then trim it up into pieces using sharp scissors or garden shear.
Step 3: Get Loopy
On either side of pliable twine make loops. All you need to do is create a circle on either side, so it can ideally fit into place.
Step 4: Twist That Twine
By wrapping the pliable twine around itself 3 to 4 times twist it into a stiff loop. Set it aside once you get loops on either side.
Step 5: Pick Your Perennials
Now, collect and stick your flowers. Start creating your group by taking one of each kind of bloom and filler. Arrange the groups in your hand to craft out a beautiful and eye-pleasing arrangement from all sides.
Step 6: Start sticking
To club your DIY wedding flowers together, cut 5 to 6 pieces of floral tape and wrap it around the stem of blooms. Carefully start tapping from the base of the flower and continue tapping downwards to the end to get a super fine finishing touch.
Step 7: Sit And Admire Your Cute Mini Arrangement
Post your achievement on Instagram and flaunt away.
Step 8: Get Yourself Busy
Keep crafting out groups of blooms unless you secure 7 to 8 of them.
Tips: All of your bunches will be different from one and another, go on and create various combinations by adding a various quantity of blooms and fillers to give it a unique touch.
Step 9: Get Wrapped Up
Go back to step 3, and grab your pliable twine and hold it along the already dropped up bunch of flowers. Now, go ahead and start wrapping a single piece of floral wire around the base of the pliable twine and the bloom.
Step 10: Keep It Tight
Keep wrapping it around until you feel that the bunch of blooms are completely secured. It's advisable to use ⅓ wire on your first bunch, but it's completely alright to use more to make it more secure.
Step 11: Add another Bunch
Pick up another mini bunch and place it along the pliable twine in the similar direction, ensure that you don't leave gaps in between the bunch. Go ahead and wrap the floral wire starting from the first bunch till the second bunch until it gets secured.
Step 12: Keep Adding
Keep clubbing up the bunch to the pliable twine till you reach the very end. Go on adding fresh strands of floral wires as and when required. It's recommended to use three strands of floral wire least.
Step 13: Pick Your Plain Twine
Cut about a 2 feet long piece of ribbon or plain twine.
Step 14: String It Through
Beneath the ribbon or plain twine along the two loops and tying a bow. This will ensure that the crown fits perfectly well on your head and you can adjust it whenever required.
Are you willing to craft out a lovely crown of flowers for your big day? Give a quick glance at these "do's and don'ts" before paying a tour to your florist and opting a flower crown for your bridal accessory.

Wedding Floral Budget Tricks From The Experts
Do: Opt for tough Flowers
Bride-to-be must understand that there are many kinds of flowers that sag and discolor easily without water, so always a lot for the blooms that could stay up throughout your wedding day.  Porcaro suggests that you should work with your florists to secure the flower crown style that you wished for, as with tough blooms you can keep them fresh longer. Some safe alternatives incorporate spray roses, freesia, orchids, and spires, when it comes to greenery, Expert florists have suggested using seeded eucalyptus and Italian rescues. Another famous option for wedding flowers crowns flaunted by brides, flower girls and bridesmaids are white baby's breath. She further adds that if properly used they could create a style statement for you.
Don't: Use Blooms That Sag Quickly
While opting for blooms for your crown, stay away from heat sensitive or temperamental blooms as these sort of wholesale flowers are more at a risk of sagging and turning brown or yellow. Some of the worst alternatives incorporate hydrangeas, gardenia, poppies, and peonies. It's extremely essential to avoid temperamental blooms for summer weddings as the hot sun will provoke wilting and sagging of blooms.
Do: Have a Backup Plan
If a bride is concerned about her floral crown staying up throughout the night, you don't need to panic yourself just use 2 separate crowns: use one for the ceremony and another for the reception. Still, the aspect should be accepted that while dealing with nature anything could happen and some discoloration of wholesale flowers can't be avoided. Accept that your crown will change over the period of time.
Don't: Ignore Your Personal Style
It's not a rough and tough rule that floral crown must always look bohemian. Experts take into account several elements when drafting a floral crown, including the persona and style of the bride, the wedding outfit, and the wedding theme. But the most essential element is the bride's taste and preference. She should feel free to craft out a crown as per her likings and don't hesitate to experiment with blooms, hues, and patterns.
Do: Consider Crown Placement and Size
Personal preference is the base of placement and size of a floral crown. While some brides prefer the wedding flowers to fall across their forehead other wants a headpiece that is placed back on the head. Bear in mind there is no wrong way or right way to carry it. But ensure that the floral crown complements your bridal hairdo, whether you prefer to style your hairs straight, wavy or braided or pull up a bun. Just imagine your situation that you have created a bun for yourself and at the last moment discovered that the floral crown won't be fitting over top.
Don't: Let the Crown Fall Off
A good florist always works according to the dimensions of her clients head, and then customize a crown for the bride based on the measurements acquired. Even though some concerns about the falling off of hairpiece while mingling, dancing or walking down the aisle. For this secure your crown with bobby pins without adjusting the entire look.
Do: Store the Blooms Correctly
Though some florist recommends ago refrigerate the floral crown as per Experts she has witnessed some horror stories regarding this method. The cold temperature of the refrigerator may quickly discolor the flowers particularly white flowers. Rather they suggest leaving the floral crown with the florists till the final time. If you grab the bulk flowers early than carefully place them in an air-conditioned room that is cool and dry.
Following tips will help you choose the right floral crown for your big day.