As we now approach Valentine's Day many will soon be considering and planning for a wedding. Studies have shown that at least 10% of wedding engagements take place on February 14th. It's an exciting time to be engaged and now the planning stage needs to be fully launched.
There are so many things to consider when planning a wedding and there are plenty of good materials out there to help assist you every step of the way. However, when it comes to Wedding Flowers, we have a bit of the edge. We sell them to brides on a weekly basis and often get positive feedback on how well their weddings went and how happy they were with their Wholesale Flowers.
One of the most important parts of the wedding accessories is the wedding dress. When deciding on what color and style is right personally for you, then you will need to consider what kinds of flowers will photograph best with the color and style of dress you are planning on wearing. You need consider everything from bouquets, centerpieces, boutonnieres, corsages, floral arches, and much more.
Green Wedding Dress
This color of dress certainly gives you a dramatic look with an outdoor appeal. Many kinds of blooms will add the finishing touch for this color such as: Green Orchids, Green Foliage, Succulents, Green Hydrangeas, Lily Grass Filler, and Tropical Flowers. For a bit of a Victorian contrast, you might want to consider some Pink Roses for a delicate contrast.
Red Wedding Dress
You might consider a red dress which is a symbol of love and passion. An outdoor, winter wedding in a red dress looks spectacular! Imagine a snowy backdrop in a wooded forest, which will make you look like the queen of the outdoors. When it comes to floral decorations, a classic red bouquet of Red Roses, Red Peonies, Red Carnations, Red Tulips, and Red Amaryllis with Babys Breath Flowers will stand out with pristine beauty.
White Wedding Dress
This is the classic wedding dress choice. This color is the symbol of innocence and purity. A white dress will pretty much look good with all colors, even the look of white on white. Dark Green Ruscus leaves are something we highly recommend with most bouquets when wearing a white dress. It seems to define the tones of the bouquets and even centerpieces with great balance. White Roses, White Carnations, Alstroemeria of any color will also appear magical.
Pink Wedding Dress
This color of dress makes a woman feel feminine and pretty. It also seems to be a fancy choice these days and really makes a lasting impression with pink tones and especially with floral arrangements. One thing you can try with your pink dress is to make a bouquet with three different shades of Pink Roses. Pink on pink looks fun and spectacular.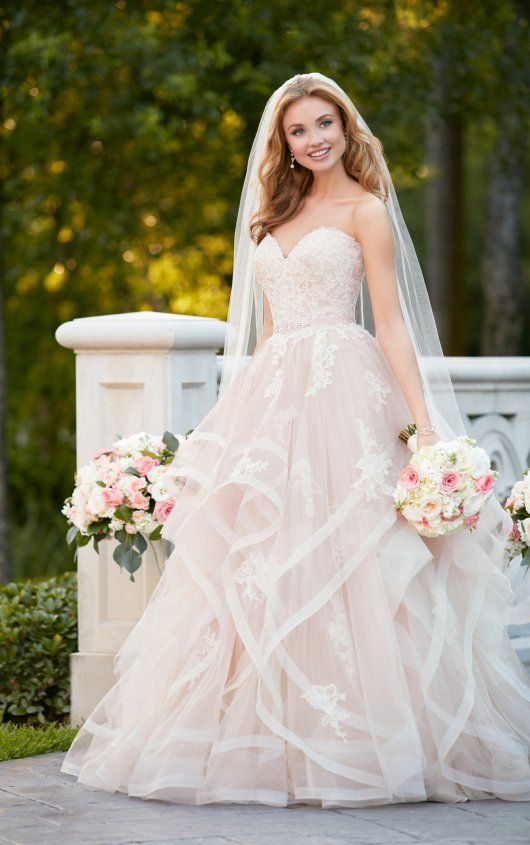 Purple Wedding Dress
A purple wedding dress, when worn right can be stunning; however, dark purple flowers may give it a bit of overkill. You may consider some blooms that are lighter in color to give you an amazing appearance at your wedding. If you do persist in Purple Roses, may we at least suggest a bit of balance with White Roses, or White Anemones, with lime Green Roses or other lime green varieties? Also, it depends on the shade of purple you choose for a dress. Tones can go from dark to light purple, and everything in between.
Orange Wedding Dress
If they are worn right, they can really look sharp. You want to be careful, however to get the right one or you could closely resemble the little mermaid. Orange has a color that is perfect for those of you who want something a little bit different and one that is not like the traditional wedding or setting. As far as flowers are concerned, you might consider some orange and White Tulips with orange and White Anemones. You can actually use many varieties with orange that resemble the fall colors and make them look spectacular.
Yellow Wedding Dress
There is something about yellow that makes you feel full of sunshine and smiles. It brings happiness, and is a good reason to select this color of dress for your wedding. Sunflowers will certainly brighten up your wedding and reception. You might even consider doing a desert backdrop and hold a bouquet of Yellow Peonies. This variation is mood setting and puts the focus on your face and expressions. Yellow is also a good color if you want to appear festive and ready for a bit of salsa afterwards.
At Whole Blossoms, we can help you find the right flowers with over 3,000 varieties. Check our website www.wholeblossoms.com, or call us at 1-877-259-2566.